Dr. Sarah Hercula
ASSOCIATE PROFESSOR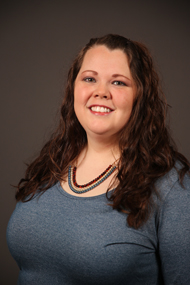 Research interests: sociolinguistics, applied linguistics, language variation, language attitudes and ideologies, U.S. English dialects, African American English, linguistics pedagogy, English grammar, TESOL, and second language writing
Dr. Sarah Hercula is an associate professor of applied linguistics in the Department of English and Technical Communication at Missouri University of Science and Techno‌logy. She holds a PhD in English Studies with a specialization in linguistics and a Graduate Certificate in Teaching English to Speakers of Other Languages (TESOL) from Illinois State University as well as an MA in English with an emphasis in teaching and a BA in education (secondary level English and mathematics) from Western Michigan University.
Dr. Hercula's primary research focus is on language variation and linguistic (in)equality; she uses her research and teaching to interrogate how language intersects with other social identity factors in (re-)creating systems of oppression and inequality and to promote inclusion and appreciation for linguistic variation and cultural diversity. Her published scholarship includes a co-authored research article, "The Effect of Noun Phrase Grammar on the Affective Meaning of Social Identity Concepts" (2019) in the Journal of Research Design and Statistics in Linguistics and Communication Science and a research monograph, Fostering Linguistic Equality: The SISE Approach to the Introductory Linguistics Course (2020).
At S&T, Dr. Hercula primarily teaches linguistics courses, including English 3301 A Linguistic Study of Modern English, English 3303 The Grammatical Structure of English, and English 3304 Language in Society. She also teaches composition courses, including English 1120 Exposition and Argumentation and English 5571 Advanced Writing for Science and Engineering, which are both often taken by international students and students who write in English as an additional language, as she specializes in working with students in these populations.
Dr. Hercula is originally from Michigan and moved to Rolla in August 2016. In addition to reading, writing, and studying language, she enjoys listening to and making music, acting, yoga, walking with her beautiful Shar Pei-Rottweiler named Mohinder, and binge-watching movies and shows with her partner.