Dr. Kathryn Dolan
ASSOCIATE PROFESSOR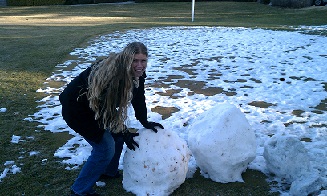 Research Interests: Nineteenth-Century U.S. Literature, Food Studies, Global Studies, Environmental Criticism
Dr. Dolan received a BA in English from UC Los Angeles in 1997, an MA in English from San Jose State University in 2002, and a PhD in English with an emphasis in Global Studies from UC Santa Barbara in 2010. Prior to joining the faculty at S&T, Dr. Dolan was a postdoctoral scholar in the English department at University of South Florida.
Dr. Dolan's book manuscript, Beyond the Fruited Plain: Food and Agriculture in U.S. Literature, 1850-1905 (2014), was published through University of Nebraska Press.
Her second book manuscript, Cattle Country: Narratives of Race, the Environment, and the U.S. Farmer, is under contract with University of Nebraska Press.
Her other publications include the following:
"Agriculture and Literature," A Companion to American Agricultural History, ed. R. Douglas Hurt, under contract with Wiley Press.
"Cattle and Sovereignty in the Work of Sarah Winnemucca Hopkins," American Indian Quarterly, 44.1 (2020): 86-114 .
"The Awakening's New Orleans Coffee: Global Commodity and National Culture," book chapter accepted, New Orleans in American Literature, ed. Nancy Dixon and Leslie Petty.
"Consuming Cultures," introduction to special issue of Journal of the Midwest Modern Language Association (JMMLA) (Fall 2019), forthcoming.
"Eating Moose: Thoreau, Regional Cuisine, and National Identity," Rediscovering the Maine Woods, ed. John Kucich (Amherst: University of Massachusetts Press, 2019), 123-138.
"Diet and Vegetarianism," Henry David Thoreau in Context, ed. James Finley (New York: Cambridge University Press, 2017), 216-224.
"Her Daily Bread: Food and Labor in Louisa May Alcott," American Literary Realism 48.1 (Fall 2015): 40-57.
Dr. Dolan has also presented papers at the MLA, MMLA, ALA, and Food Studies International conferences. She is currently the Past President and Treasurer of MMLA and Co-Editor of JMMLA.
Dr. Dolan teaches survey courses in early-U.S. literature, food studies in literature and culture, and American Gothic courses, as well as courses on Mark Twain and Global Foods in London in Spring, 2015 and Costa Rica in Text in Summer, 2018.