Our department encompasses two distinct disciplines—English and technical communication—each with a number of academic and extracurricular opportunities. Courses are taught by respected scholars, authors and researchers with interests ranging from Southern literature and culture, to video game narratives, to the role of communication in technology diffusion.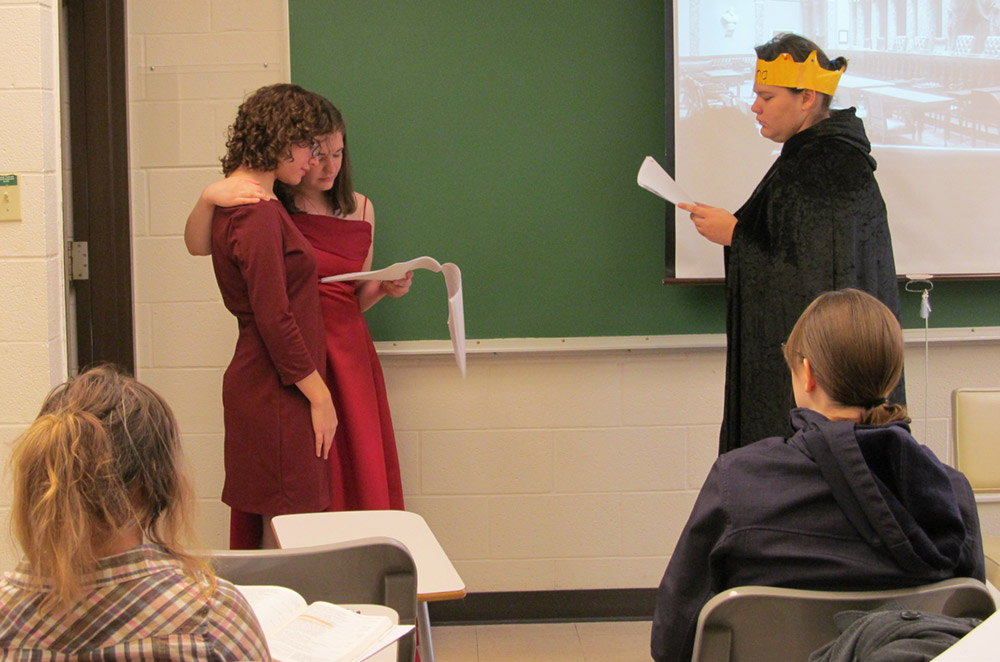 Students in Dr. Cotterill's Shaksepare class perform a scene from Hamlet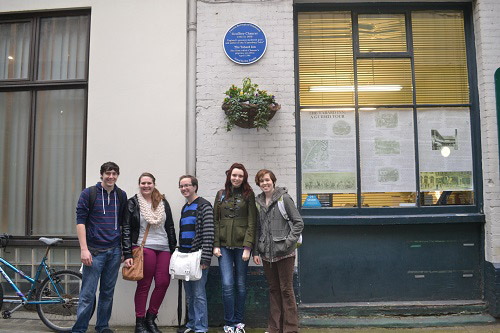 Students in Dr. Malone's MLP class visit the site in London where Chaucer's pilgrims allegedly began their journey to Canterbury.
Some department highlights
Both English and technical communication students have exciting study-abroad opportunities. Faculty members have taken groups of students to London for semester-long courses on Shakespeare, social media use, and food and literature as part of the Missouri London Program; students and faculty in English have joined their counterparts in geology and geophysics on research trips to San Salvador Island in the Bahamas; and the department may soon be offering summer literature courses in Iceland and Wales.
Students are encouraged to join the writing staffs of campus publications such as Southwinds, the university's literary and arts magazine, which is published annually in the spring semester and is distributed throughout campus, and the Missouri Miner, the university's student-run newspaper.
Students are also encouraged to join a student organization such as Sigma Tau Delta, an honor society for English majors and minors and those interested in English language and literature, and the student chapter of the Society for Technical Communication, which is the only chapter of its kind in the Eastern half of Missouri.
Because of our unique campus environment, English and technical communication students can work alongside engineers and scientists on research and design projects. In addition, students are strongly encouraged to complete internships and co-ops before they graduate. Past students have worked as interns at Monsanto, Cerner, Sprint, Brewer Science, Diebold, Express Scripts, Fort Leonard Wood, Phelps County Regional Hospital, and other local and national companies.
Thanks to a recent partnership with Adobe Systems Inc., technical communication students have online access to the Adobe Technical Communication Suite, which contains the latest full versions of the company's award-winning, industry-standard software, including FrameMaker, RoboHelp, Captivate, Presenter and Acrobat.
Many English and technical communication courses are offered online to both distance and local students. The technical communication program also offers all-online versions of its Master of Science, graduate certificate, and graduate minor.
The department offers a number of popular minors for students already enrolled in other programs, including literature; writing; literature and film; American studies; creative writing; and technical communication. The creative writing minor is particularly appealing to students who enjoy writing short stories, poems and creative nonfiction.